From watching youtube Beauty gurus I'd heard ELF (Eyes, Lips, Face) Cosmetics talked about a lot as favourite products so I assumed they were uber expensive, WRONG. I got all of this lot for around £20 with free shipping.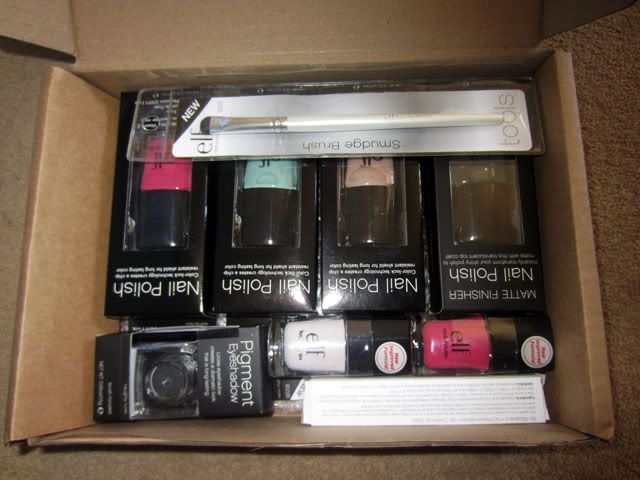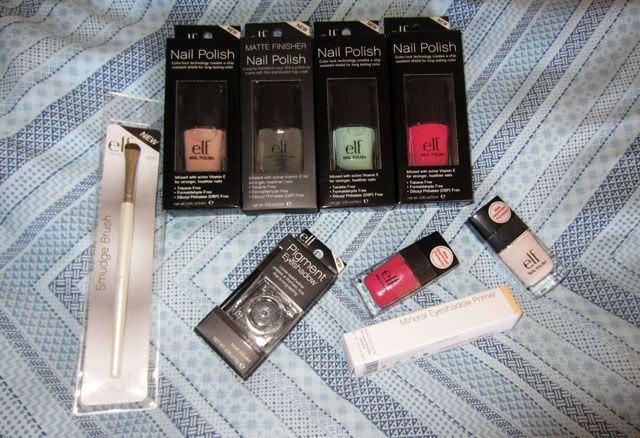 The one item I really wanted was the Mineral Eyeshadow Primer which is meant to be a dupe for Urban Decay Primer Potion, I've used it once but didn't really find it that great. Will try it again soon as I think I may have used it incorrectly and properly review it. I also picked up a black pigment which is great, a little difficult to get out though. Their brushes are awesome too and cheap, no complaints there!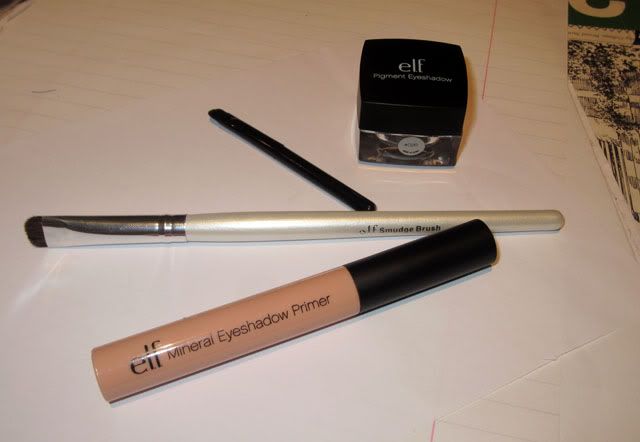 I picked up six polishes: Fluorescent pink, Mint Cream, Matte Finisher, Nude, Gum Pink and White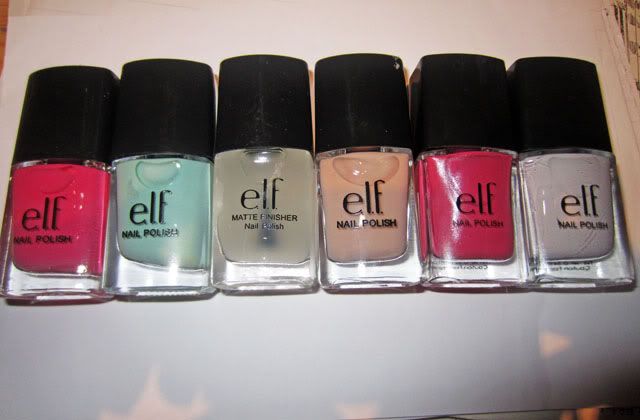 Before I bought these I searched for swatches on make up blogs so I could see what the colours were actually like compared to ELF's website swatches (see here). It's really useful so I thought I'd swatch the ones I bought.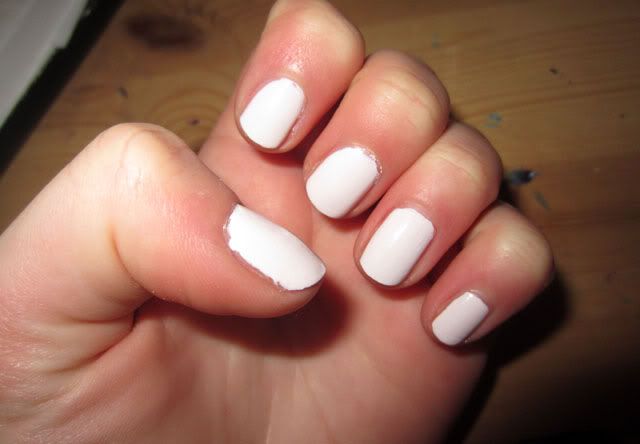 White - Very pigmented bright white, however washed my hair after dyeing it and managed to turn my white nails milky pink - shows how white it was that I managed to dye my nails!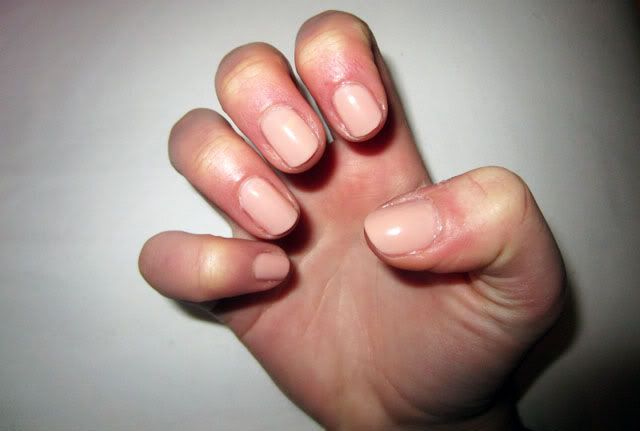 Nude - Perfect nude, can build up coats for a more intense colour.
Matte Finisher (with Mint Cream base) - Had really wanted a matte top coat and this perfect. Also I found using the finisher helped prevent chipping quite a lot. You can't really see in the photo but it really mattifies the polish.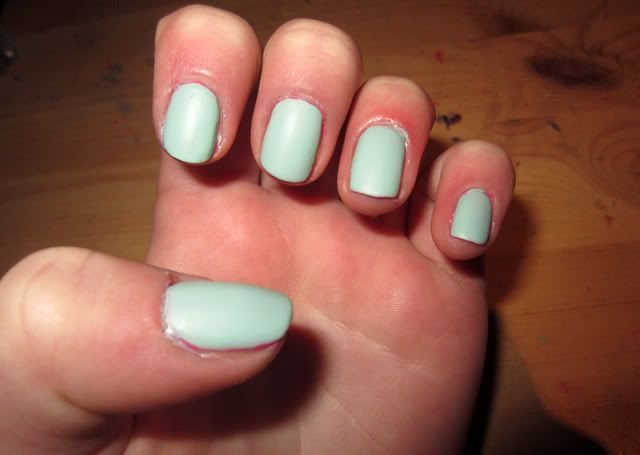 The only problems I had were with the two pink shades I bought as ELF's website swatches Gum Pink and Fluorescent Pink as completely different to what I actually received.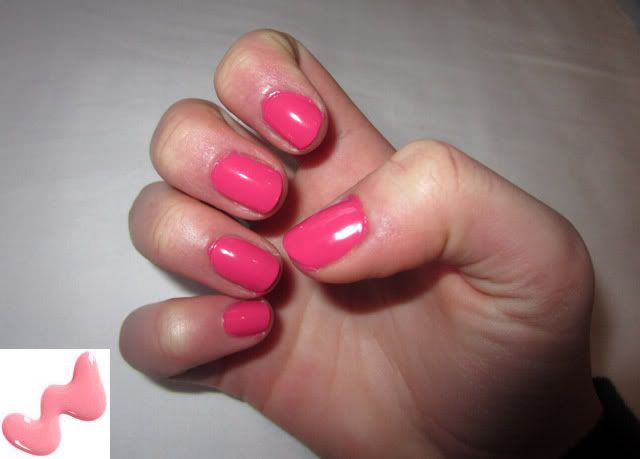 Gum Pink - So this is what I received, a bright hot pink. However the picture in the bottom left hand corner is what the website swatches Gum Pink as - a light pink. Hmmm. The sticker on the bottom of the bottle and the packaging both say Gum Pink so I wonder if the bottle was mislabelled..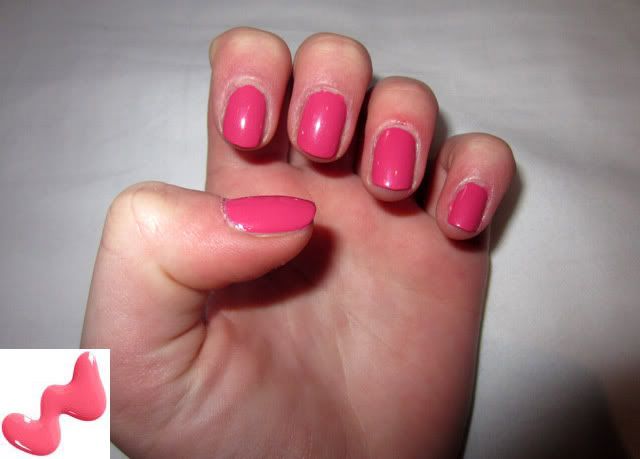 Fluorescent Pink - With this polish the ELF website swatching is closer but again I'm a bit disappointed as the word 'fluorescent' suggests this pink should be very bright. The flash on my camera has made this look a lot lighter than it is as it's actually a dark toned pink, not very fluorescent at all!
Saying that though, the polishes are £1.50 a pop, I really can't complain! The reason ELF is so cheap is because they only sell online and the packaging is so simple, the quality really doesn't relate to the price! I'm trying to decide what my next ELF purchases will be, have my eye on their blending brush and high definition powder. Do you have any ELF favourites? xx