Now onto the second of obligatory December-time blog posts - the year round up. This year has been quite major for me changes wise, I finished my A Levels, left school, decided to take a gap year, got a place at university, got my first proper job, started to properly learn Japanese and met new people. I also dyed my hair lilac, went skiing for the the first time, went to Portugal for my first holiday sans famille, saw Dolphins for the first time, dressed up as a maid from Transsexual Transylvania and probably a lot more, but the vodka has made me forget a lot.
Blog wise I considered quitting a lot earlier in the year but I love it too much to quit, and now I'm actually feeling a lot happier about it! I was a pretty appalling blogger this year, I clicked my 'outfit' tag and I only did 20 outfit posts this entire year! What the devil was I doing all year? Probably watching true blood actually or procrastinating from exam revision. That means I only did an outfit post every 18 and a bit days, shoddy blogger much?! Anyhoo this is all the outfit posts of the year labouriously gridified by me using Excel and Paint...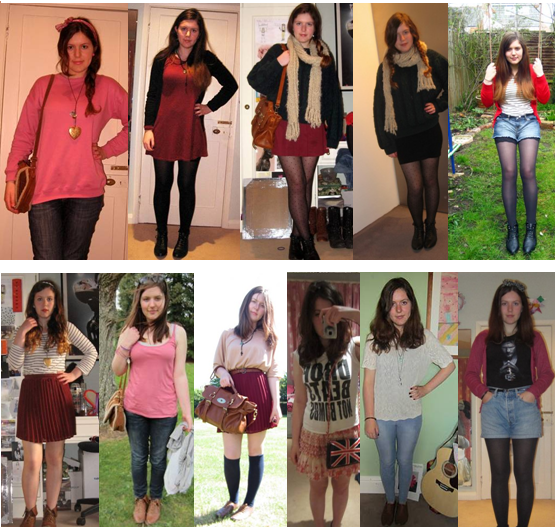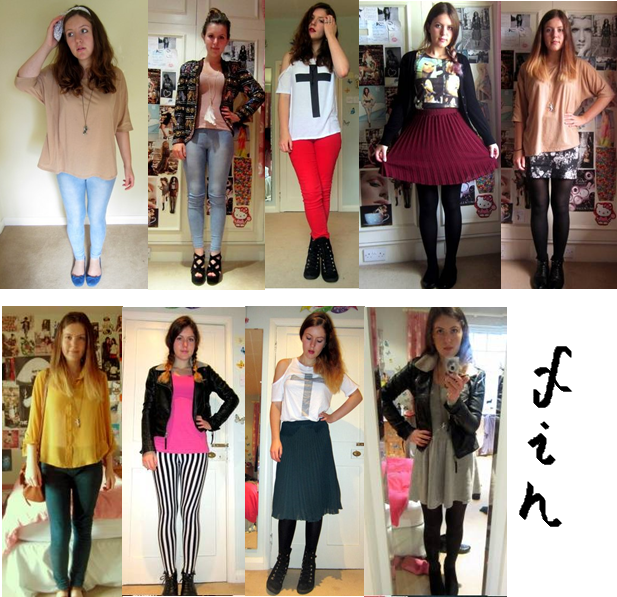 Style wise I think I've definitely progressed throughout the year and I'm much better at wearing what suits my figure, and my hair and make up skillz are definitely a lot better now!
New Years Resolutions 2012
– Blog at least twice a week, an outfit post once a week
- Comment on every blog you visit!
- Revamp blog layout once every 3 months
- Get photoshop and learn how to use it!
Style and Beauty resolutions
-

Learn how to curl hair with tongs
-

Learn how to contour face
-

Stop caring what people think about what you wear!
-

Become at least GCSE A grade standard in Japanese
What are your resolutions? Can't wait to continue reading everyone's blogs in the new year, hope everyone has a fabby 2012! xx