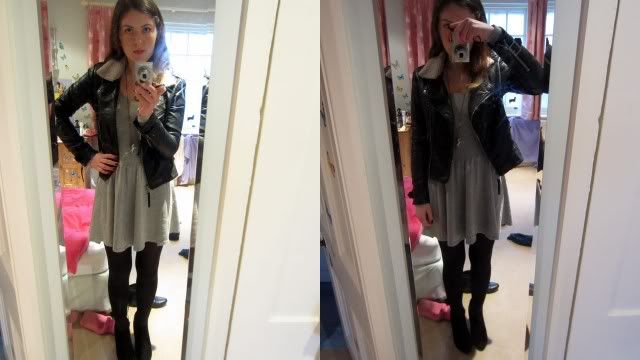 Dress - Primark via Charity Shop
Leather Jacket - Topshop via Ebay
Necklace - Accessorize
Shoes - New Look
The title has absolutely nothing to do with anything apart from that I've been listening to Nicki Minaj's album on Spotify a lot, still have no idea what Roman's Revenge is about, probably dragons.
Anyways quickly snapped a classy mirror shot of what I wore to visit my Gran in London a few days ago, wore these New Look heels but they hurt like a betch so changed to flats as soon as I got there! I haaaate London, coming from living in the middle of absolute nowhere I hate big cities and was convinced I was going to get stabbed or mugged any second...I only got a bit excited when we drove through Chelsea as I hoped I might see the cast of Made In Chelsea, needless to say I didn't.
Also tried doing a cat eye with my eyeliner and it kinda worked!
It took me about a thousand years but it did to the job of making my eyes look more almond shaped and less small as I usually make them look when I attempt liquid eyeliner. In other news I've been working for about a month now and I like my job, a bit hectic as the shop I work in is part of a tourist destination; but it gives me a chance to practise my Japanese, I say the formal argiatou gozaimasu to Japanese tourists and I get a 'sugoi!!!' ('cool!!!') in return as they don't expect it! Well this has been a bit of a ramble, probs won't post before Christmas but I'll go and reply to comments now. Happy Christmas everyone!! xx