I was flicking through my copies of FRUiTS and FRESH FRUiTS the other day (which are such a good buy by the way, they never get boring to look through!) and I kept seeing photos of one person and thinking 'hasn't she been featured in here before'? So I went through the whole of FRESH FRUiTS and took pictures to show you, as her style is really cute! Her name is 'Saachan' and she is featured no less than 6 times in the second volume. If I lived near Harajuku I would be hanging out there in the brightest outfits possible in the hope to be photographed by Shoichi Aoki for sure!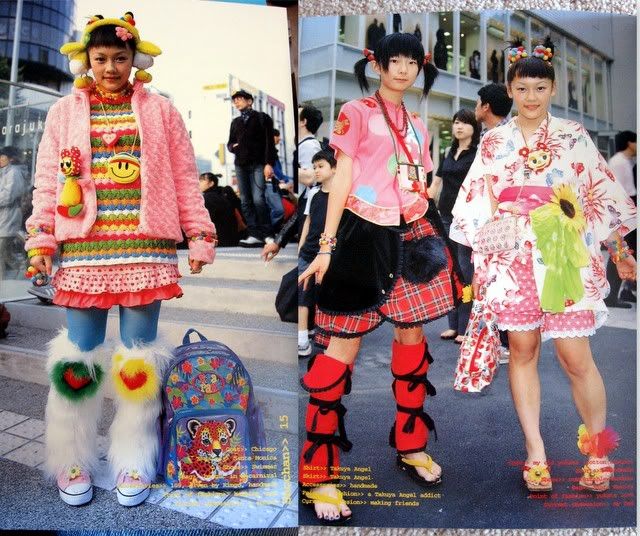 I tried to recreate her kawaii decora style, but sadly these are the brightest clothes in my wardrobe I don't quite live up to her colourful style!
T-shirt ♥ Handmedown ♥ Skirt ♥ Shop in France ♥ Tights ♥ Peacocks ♥ Shoes ♥ New Look
I've also been decorating my nails with these Korean pen polishes from Ebay, I had Hello Kitty themed ones last week much to the delight of my 3 year old cousin who LOVES Hello Kitty and made me draw HK bows on her nails and then told me I'd 'done them wrong'.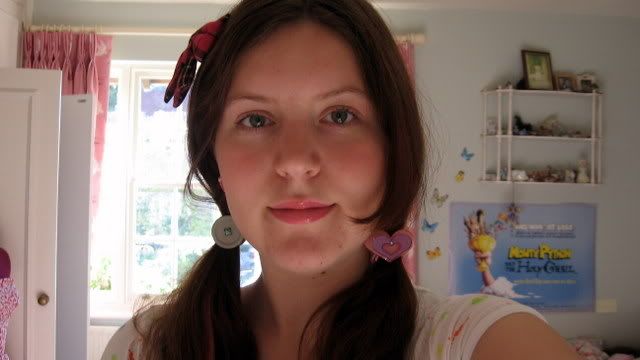 You can see a bit in this photo that I have a pink streak in my hair, its not real though I'm not that brave! Also another sneak preview of my redecorated room in the background, only a few more pictures to hang and then I will do a full post on it!
This week I've cooked dinner for my family every night, Tuesday I made Miso Ramen with soba noodles which was so yummy but didn't look very appetising and I forgot to take a picture; but Wednesday I made onigiri for the first time and they weren't too bad!
Considering it was the first time I've made sushi and I didn't have long to decorate them (hence why they are quite random) I'm quite pleased with myself ^ ^
Do you think you could dress as colourfully as Saachan? I think thats one of the reasons Japanese culture is so appealing to many is that even if people think some of the 'wilder' styles weren't to their taste they would probably keep it to themselves, whereas if you went out dressed like that in England you would get shouted at by chavs :P