For a change I thought I'd have something of substance on le blog rather than 'look at new shiny things I bought' or 'today I dyed my hair pink'. Recently I read this article by Emer O' Toole on hair; specifically body hair
on women, and how it is viewed as unacceptable by society. Emer hasn't removed any body hair in 18 months. She was on This Morning and pitted against a salon owner who said she admired Emer's confidence; as if she wasn't clean shaven she wouldn't feel confident in herself. Emer pointed out that girls should be taught at a young age to find confidence in the fact they are an interesting person with a quirky personality, rather than they are beautiful (which can only be achieved by being as hairless as a Sphynx cat).
It is scary how something as natural as body hair is viewed as completely unacceptable by society for one sex, but completely acceptable for another. Although it's nice to feel clean shaven, a massive part of the fact women are obsessed with hair removal is down to the fact we are taught from a young age to get rid of our body hair whatever way possible, as it is disgusting and unattractive. At the end of Emer's spot on This Morning 80% of viewers agreed with the fake tanned, made up salon owner who put forward no interesting points at all and agreed with Emer for most of the spot. Kind of ridiculous! Emer said in her article she had been pointed and laughed at on the tube for having hairy armpits, why would this not happen if it was a man?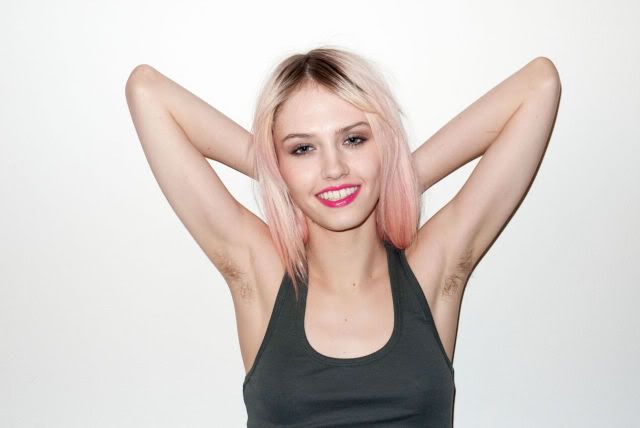 Source: Terry Richardson
Charlotte Free (love her) also doesn't shave. When interviewed by the guardian she said:
"It's an equal rights thing. It's ridiculous that women have to shave their armpits and legs every day. I don't have time. I think it's asinine that men have this standard that women should be perfectly shaven. I only shave them once in a blue moon for a really big job. I like to keep my body hair. It's a symbol of how I'm not going to conform to something that's so ridiculous."
I wanted share this with you guys as I thought Emer was really inspiring. Hopefully with more role models like her soon it will be acceptable to be both hairless and hairy without people recoiling in horror that you haven't been subjugated by society's norms for female beauty.
What do you guys think, do you think being hairless is solely down to society? Would you go sans hair removal? xx