Okay, so first of all I am biased in this review, as I am a fully fledged Little Monster: I'm seeing Gaga in concert for the first time on September 8th, my bedroom walls are covered in posters, I have all her albums, I worship at the altar of our Lord Godga and so forth. However, this is a genuinely lovely smelling perfume.
When I first smelt Fame in Debenhams the other day, even through my devotion, a part of me still thought 'what if it smells disgusting?'. But I was relieved to find it is amazing (like Gaga).
It is a perfect representation of Gaga and a reflection of the Born This Way era. Gaga is not a celebrity to randomly endorse something by allowing her name to be slapped on a product and then walk away from it with the monies. Clearly a lot of thought was put into both the design and the scent.
The fragrance itself was developed by Coty with the Haus Laboratories (Haus of Gaga) in Paris, in a 'push and pull' structure rather than the typical pyramidal structure which is normally used in scents. The liquid inside the bottle is 'black fluid', but sprays out completely clear. Normally when I spritz perfumes at duty free in the airport or whatever I find them overbearing, and I don't normally wear scent as I find it difficult to find one I like. However unlike the 'blood and semen' rumours would suggest, the fragrance isn't overbearing at all, it is a genuinely nice smell - I can't stop sniffing my wrists when I wear it!
Nick Knight and Gaga designed the bottle together which is gorgeous, the black and gold is such a classic look - and I love the way the monster paw was incorporated into the design of the lid. You can also flip the lid upside down and use it as an alien-esque pedestal for the bottle. Overall the bottle has an amazingly futuristic look, even my family who are not fans of Gaga (mainly because they are sick of me going on about how wunderbar she is) remarked on how cool the bottle is and wanted to have a closer look at it. Also something I found out from twitter - if you hold up the bottle to the light the black liquid glitters red. Cool, eh?
Love the fact Scheisse was used in the ad, it's one of my favourite songs off BTW.
And another thing I discovered...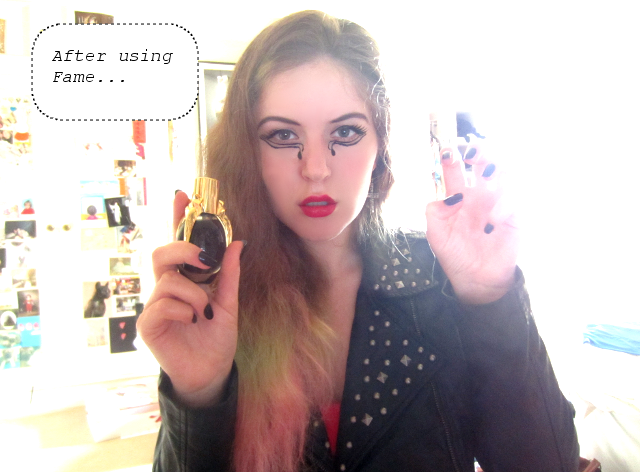 Have you tried/bought Fame? Do you have any favourite celebrity perfumes? xx