Sorry I haven't posted for so long! I moved into the new house on last Monday which is good but turns out the 'ducks' in the pond outside my window are actually evil geese which honk and try and attack anyone who passes, including cars. Then I was ill for a few days and missed a load of school grrrrr, AND bloody BT haven't set up the iternet till yesterday so I went 2 weeks without internet. Its frankly a miracle I didn't go insane without Facebook and reading peoples blogs!! BUT the good news is my heartbeats finally arrived (in the correct colour!!). The sound is awesome, especially the bass and you can listen to the music quite loudly without the sound escaping and pissing off people sitting next to you on the bus :P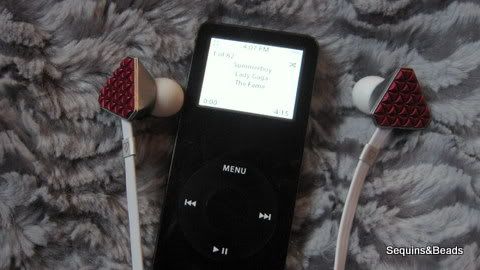 Also they look really futuristic and come with a really cool case. They're quite expensive from HMV and amazon (around £80) but I searched on Ebay and got them for around £50 and I saw pairs in the other colours for cheaper. I really recommend them, especially if your a GaGa fan.
I also received this award from Kavita @ Iheartvintagex, check out her awesome blog! The recipient of this award is required to list seven interesting things about themself and then pass it on to seven bloggers.
2) I live in the middle of nowhere, hence why I go insane without internet.
3) I'm an excellent liar (I'm not sure this is interesting about me, maybe a worrying thing!) but a good listener.
4) I love creative writing, and definately would love a novel published before I'm 18 (better start writing now..) and am quite a creative person; I like coming up with ideas.
5) My claim to fame is meeting Colin Firth and Renee Zelwegger when they were filming Bridget Jones' diary 2.
6) I'm a massive procrastinator, especially when it comes to exam revision.
7) I have 2 dogs and 5 pigs, one of which is having piglets in a few months time so expect cute photos! I also used to have chickens until the fox got them (grrr), I don't live on a farm though we just have a field at the bottom of the garden.
I'm feeling lazy so I tag everyone who wants to do this!
The other day I went to Ikea to get some new things for my room and its the most amazing place!! I don't think I'd been to one before; they have cafe's and a toy section with little moose for 29p :P They also have pencils for you to take so we got about 27 I think haha! So I got this adorable heart shaped mirror, a red bin, a pink bedside lamp and a bendy pink desk lamp.
I've also dyed my hair again so I post pictures my next post. Sorry I didn't update you guys for so long, I'm on half term now (a week of school) so will post more frequently!
xx