I already had a vague idea what was in this months box due to reading beauty blogs, so I was already fairly excited :) Firstly the Christmas red box is lovely, unfortunately I am massively clumsy and have managed to accidentally smash the lid to smithereens with my gargantuan feet so I probably won't be keeping this box for storage...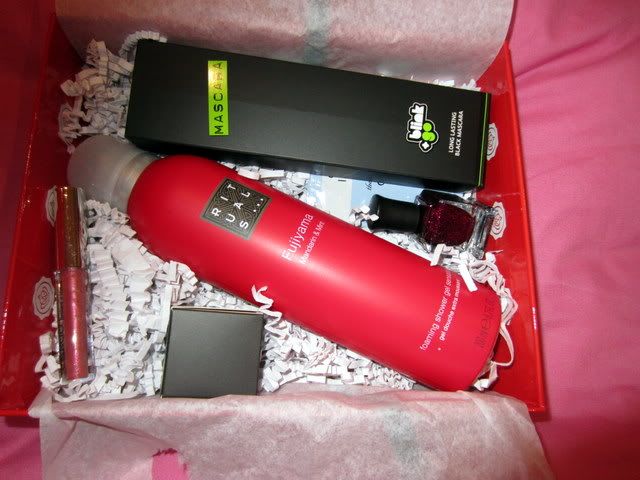 My box had inside: Rituals Shower gel in Mandarin and Mint, MeMeMe Seventh Heaven Skin Primer, Deborah Lippmann Polish and removal mitt, Cargo Lipgloss and Blink + Go Mascara.
(snapped these quickly while getting ready for work)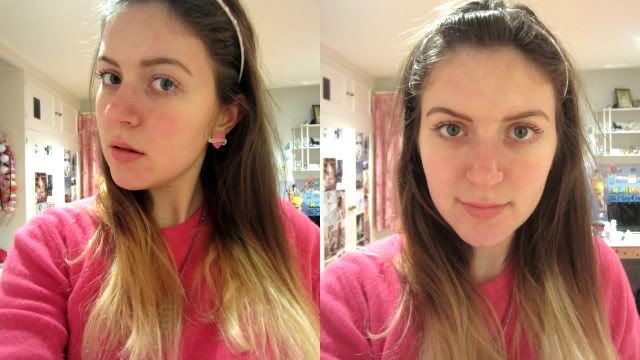 This mascara is very good, I've swapped it with my L'Oreal Million Lashes and it's now my daily go to mascara. I get stupid watery eyes for some reason and Blink + Go doesn't flake or smudge at all, the lengthening is good and it comes off very easily with make up remover. Negs are that it doesn't give much volume, and the formula is very liquid-y so you need to wipe excess of the tip. Other than that, brill mascara!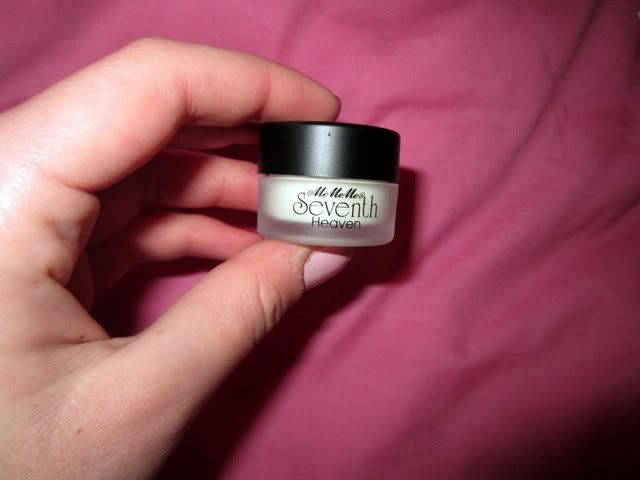 The primer really does smell like Seventh Heaven, it smells like lemon mousse...or some lemon pudding I've had before. Delish! Also noticed it reduces visible pores, helps concealer and foundation go on nicely and so forth.
The lipgloss wasn't particularly wow as colour isn't visible at all but it gives a nice shine, it's not too sticky and I always put a small lipgloss in my bag when I go oot so this shall be my new one.
Ironically enough I posted Deborah Lippmann nail polishes in my Christmas Wishlist and then this showed up a few days later! I wanted Deborah Lippmann polishes since Gaga wore an amazing grey one in a Vanity Fair Shoot and D.L released a shade inspired by her called Bad Romance (which looks a bit like the one above but with bigger glitter particles and more of a reddy-purple). This is gorge, fantastically sparkly and very chip resistant!
Forgot to take a picture of the shower foam but the smell is amazing and it feels very luxurious. Summary review - this box was epic! I'm still debating over switching to Jolie Box though as their boxes seem to be consistent in quality of products and make up rather than things like perfume samples (which I don't use). xx