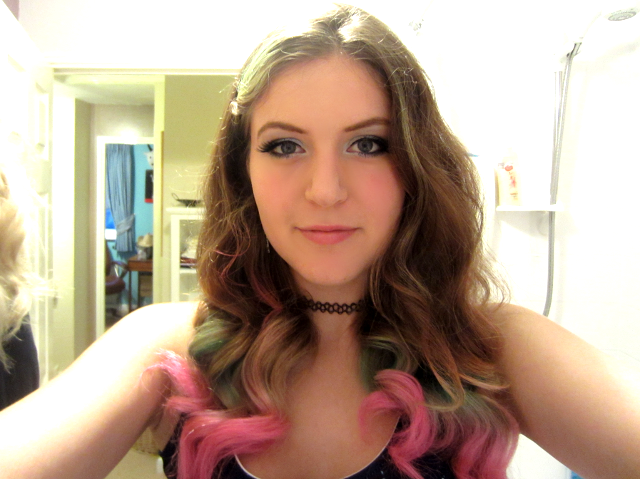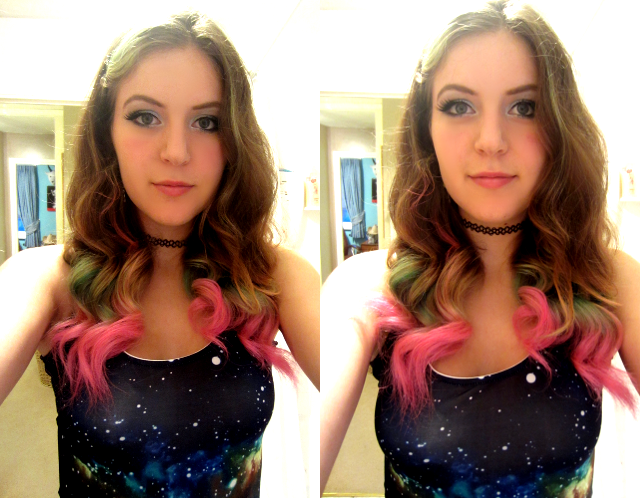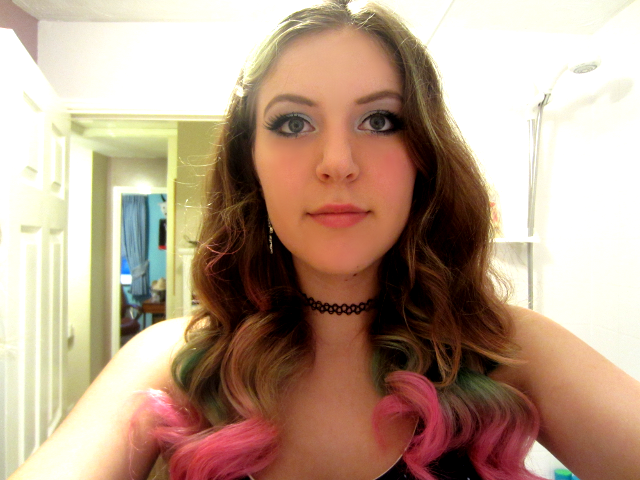 Face - Murad primer, Benefit's the Porefessional, Bobbi Brown colour corrector, Maybelline Dream Matte Mousse, ELF High Definition Powder, HD Brows palette, Collection 2000 clear mascara
Eyes - Urban Decay primer potion, Accessorize 'With Love' eyeshadow palette, Stila smudgestick eyeliner in stingray, MAC Liquidlast Eyeliner, Max Factor Masterpiece waterproof mascara, L'oreal Million Lash mascara, Ebay false eyelashes cut in two to make demi lashes
Lips - A slick of Vaseline maybe?
Snapped these quickly as I was about to go out for my friend's birthday. I look a bit distracted/derpy because my friend was just to the left of me doing her make up so I was talking to her XD
I wore my new Romwe galaxy dress (which I will do an outfit post on soon!) and my spiked Litas. I had to redye my hair that morning because all the pink ran out in the first wash and went a grey toned pastel/peach pink. I love the colour though so don't want to go back to tulip pink which lasts longer! I have to say the more I use ELF's high definition powder the more impressed I am with it. I always take a powder compact out with me because (especially when I dance) I tend to get shiny nose quickly. I applied the high def powder before I went out then only had to touch up once - it's just a shame that the ELF powder is in such a massive pot you can barely fit it in a make up bag, they need to make a travel version!
Also the other day I came across this article on Lacey Jones the Poker Barbie. Normally not something I'd be interested in, but it's refreshing that she is so high ranked in a male dominated game, in contrast to how she might be stereotyped and viewed in regard of the fact she's also a glamour model. Impressive! xx