Denim Jacket - Charity Shop - Top - DIY - Leggings - Topshop - Socks - Topshop - Shoes - Schuh - Earrings - Ebay
Nails - by Missguided in Misstique
I took these photos before I left, but am typing this up in France! So glad I got internet connection here, a week without it is bad enough but I think two weeks without and I'd probably be rocking back and forward in the corner and muttering to myself.
Anyhoo this is what I wore to go shopping with my friends just before I left. Decided to go 90s themed with denim on denim (except the jeggings aren't really denim) and my platform trainers (can't really call them creepers I've decided). I'm going to sell them on ebay though as love them but they kill my feet!
This is also pretty much what I wore to travel in, apart from wore sandals instead of the trainers.

I wanted to wear my favourite pair of New Look jeans for travelling but I seem to have permanently blighted them by swatching a Sleek pout paint on my hand then absent mindedly brushing my hand on my leg :( Frankly pigmented lipstick is on par with

coffee stains

! Need to invest in some serious

stain removal

products when I get home to salvage them my babies.
Some things I picked up ~
I love this bag! My friend bought it before and I was hoping it would come back in to stock. It comes with a tacky charm but as soon as you remove it you are left with the bag in all it's minty pastelly goodness. The inside is baby pink too and I love the scalloped detailing on the clasp.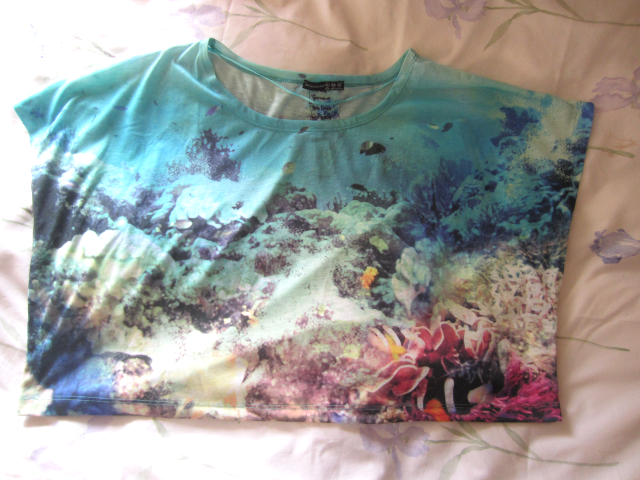 This oversized cropped tee shirt is part of Primark's Mary Katrantzou copies I think. The print is gorgeous.
The body shop had all their shower gels on sale, these were 4 for £10 errr bargain.
After hearing good things about their seaweed skincare range I decided to get a mini bag of the range to see if my skin likes it. I struggle to find skincare aimed at oily skin that works and this seems to be doing the job so far! The moisturiser is lovely. Also picked up this Lily Cole primer for only £2, as far as I can tell all it does it make my skin a little bit glittery though...
I also bought an ice cream print bralet from Primarni to match a pair of ice cream print shorts I bought from Tosphop (matchy matchy much?). Sadly the shorts didn't arrive before I left to go on holiday, so disappointing!
Now I've managed to get internet here I will probably be blogging as I've brought my tripod along too. Off to reply to comments and emails now! xx